With summer approaching many families will pack up the car and head out camping, but no matter what fun you find outdoors, you usually at some point find yourself looking for a way to pass the time. In this post. we'll discuss some of the best games to take camping.
Throw a couple of these games in with your camping gear, and get ready for some fun!
What makes a board game good to take camping?
Here are some of the things we looked for when choosing games for this list.
Small footprint: We looked for board games that won't take up a lot of space in your tent, camper, or bag.
Weight: You don't want to be lugging a board game around that's going to add a lot of weight to your gear.
Durable Components: You may be playing these games on picnic tables or somewhere else outdoors, the game needs to be able to handle some wear and tear.
Ease of setup and cleanup: Nobody wants to spend a lot of time setting up or packing away a board game
Wind resistant: We wanted to put at least a couple of games on the list that are good in high wind conditions. Card games are great, but they're largely unplayable if it's windy.
Components that hard to lose: You don't want to lose any game pieces out at a campsite especially if it's difficult to return.
We didn't require a single game to satisfy all of these criteria to make the list, but it had to have at least four of them
Best Games to Take Camping
Rummikub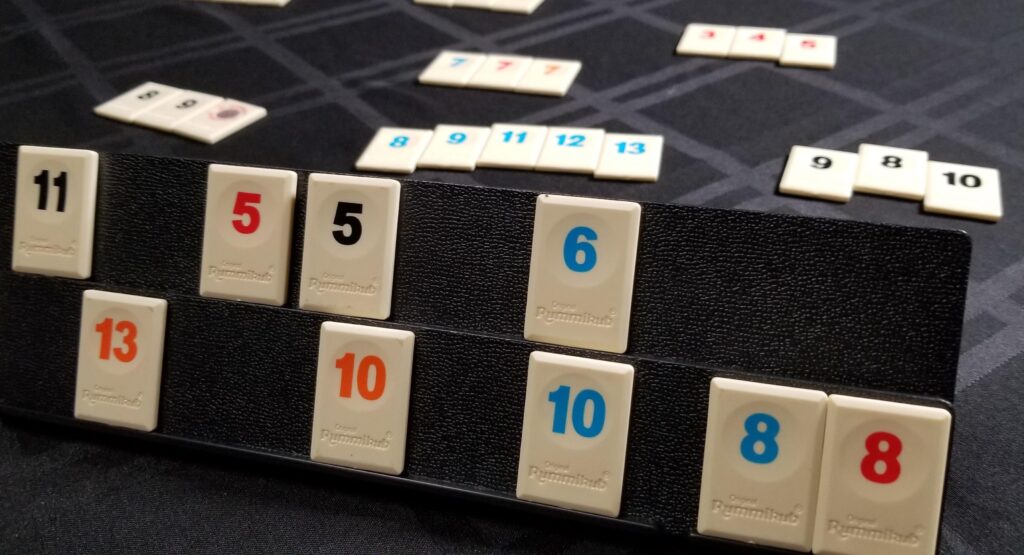 Small Footprint
Durable
Lightweight
Easy Setup
Wind Resistant
Hard to Lose
I actually played this game for the first time at a camp site. This is a great board game for camping because it's lightweight, easy to transport and doesn't have a lot of small pieces that can get lost. It's also quick to set up and put away which is ideal when you're camping. If you've played rummy you will have no problem picking up this game. The goal of the game is to be the first player to get rid of all your tiles by creating runs or sets. Many editions of this game come with "brief cases" or cloth bags for storage which makes them durable and easy for travel. The tiles are of good quality (like dominoes), they won't blow away or get easily lost and are easy to clean.
Splendor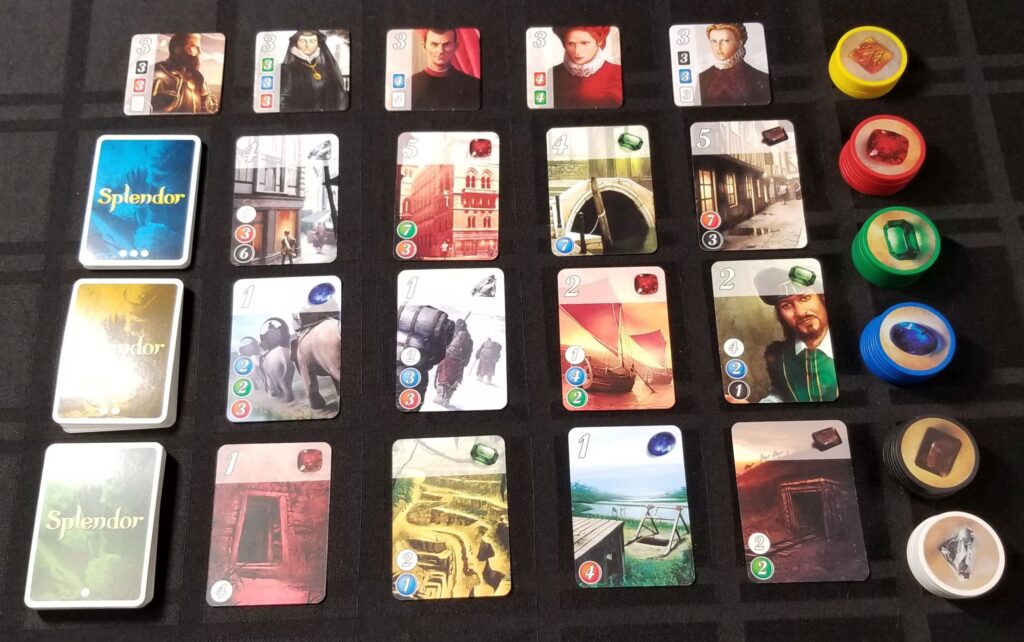 Small Footprint
Durable
Lightweight
Easy Setup
Wind Resistant
Hard to Lose
Splendor is a great game for two to four players. It's quick to learn and can be played in about half an hour. There is no game board just cards and chips. The use of cards makes this one a bit problematic on a windy day. This is an engine building game where players collect gems that they use to buy cards. The cards they buy will also produce gems making higher value cards easier to acquire. When playing this at a camp site I would recommend sleeving the cards, it will give them a little more weight and keep them protected from the elements. We didn't. give this game a mark for having a small footprint because the original box has a lot of wasted space. This game can easily be stored in another container which would give it a small footprint. Something similar to (but larger than) our recommended card game storage solution would work well.
King of Tokyo
Small Footprint
Durable
Lightweight
Easy Setup
Wind Resistant
Hard to Lose
King of Tokyo is a board game for two to six players. It's quick to set up and play, and the components are very durable. The game board is also small and easy to transport which makes it great for camping. In the game, players are trying to become the king of Tokyo by either accumulating 20 victory points or being the last one standing. It's a dice rolling game so there are no cards to blow away. There are some little plastic cubes to keep track of so make sure there is a tablecloth on your picnic table if you're going to play this one.
Qwixx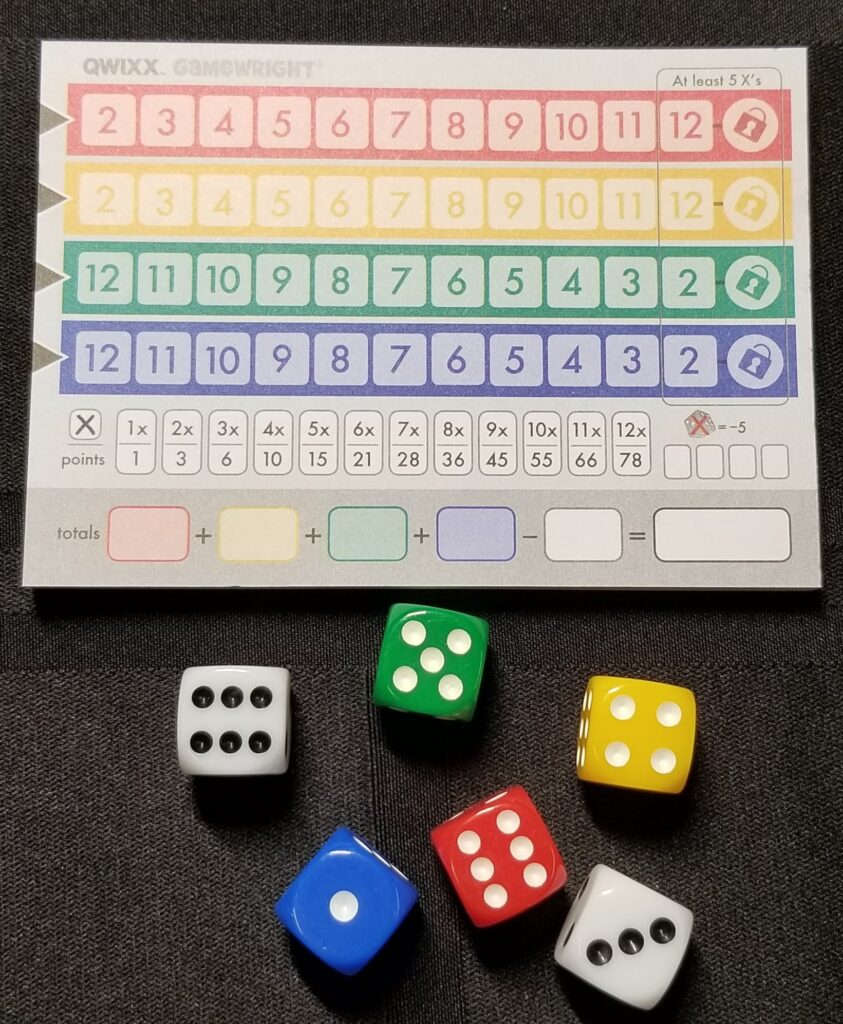 Small Footprint
Durable
Lightweight
Easy Setup
Wind Resistant
Hard to Lose
Qwixx is a great game to play camping because it just consists of dice, pen and paper. Each player plays on their own sheet and work to mark off numbers rolled on the dice working from left to right. Players have to be strategic because once a number has been crossed off you are no longer allowed to cross off numbers to the left of that number. This one hits all of the items on our camping game criteria.
Twice As Clever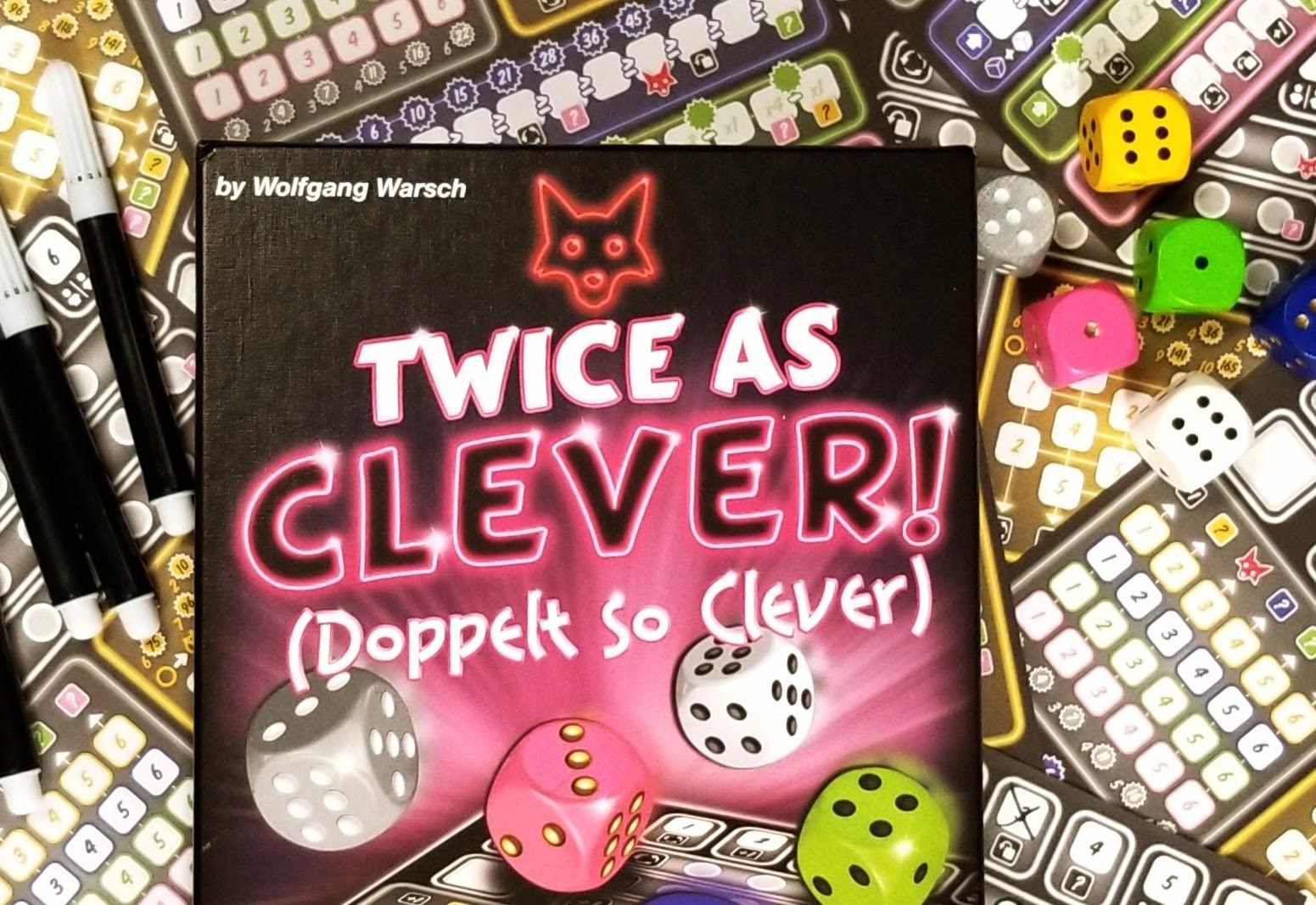 Small Footprint
Durable
Lightweight
Easy Setup
Wind Resistant
Hard to Lose
Another dice roller that meets all of the camping game criteria is Clever Cubed. Like Qwixx all of the players are working from their own individual score sheets, but this game almost feels like you playing a scratch off lottery game! There are lots of ways to score and to make combos to score more, which can be really satisfying. This one is a little harder to learn, but worth the effort. Yes, everyone has a paper scoresheet, but it's easy enough for each player to keep a. hand on it during gameplay.
Lyngk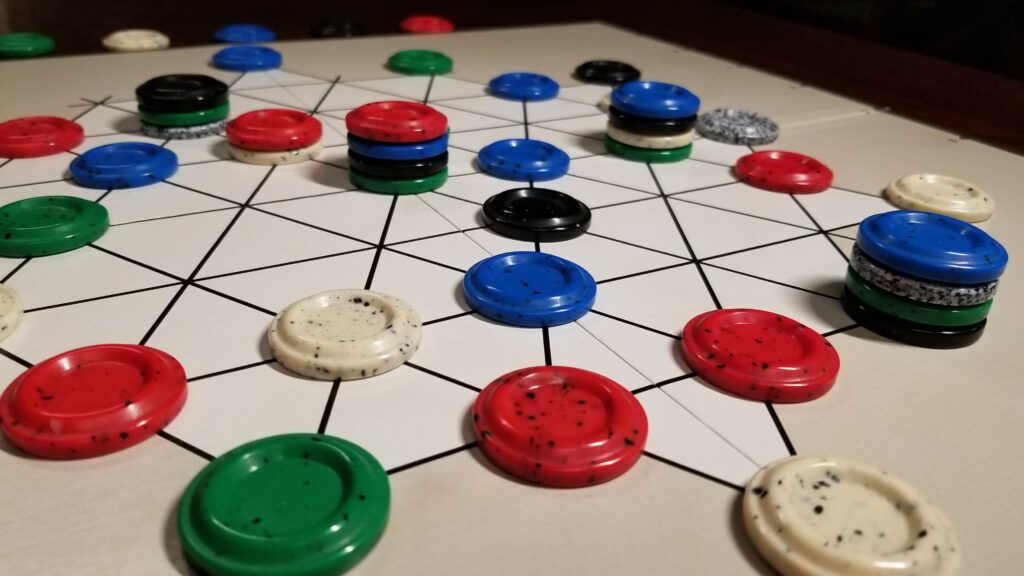 Small Footprint
Durable
Lightweight
Easy Setup
Wind Resistant
Hard to Lose
Lyngk is a more strategic version of checkers. In this game you are trying to leap over pieces and make stacks of various colors at any point in the game players. can start "claiming" colors which limits their opponents ability to use them and affects final scoring. The pieces are very durable and can stand up to being used outdoors. A very interesting choice if you're looking to take checkers to the next level
Love Letter
Small Footprint
Durable
Lightweight
Easy Setup
Wind Resistant
Hard to Lose
Love. letter is a very simple social deduction game played with a special deck of 16 cards. Love Letter is a quick and easy deduction card game for two to four players (the second edition increased the player count to six). The goal of the game is to get your love letter delivered to the princess. The person who successfully delivers the most love letters wins the princess' heart (and the game).
Fill or Bust
Small Footprint
Durable
Lightweight
Easy Setup
Wind Resistant
Hard to Lose
Lots of dice games on this list, but they really are perfect for a campsite. This is a yahtzee-style game of press your luck. Another reason this is great is because it plays up to ten players for those times when the whole family comes out to the camp site. This game is a take on a dice game I grew up playing with my grandfather, but it adds a deck of cards which adds an additional reason to press your luck. The deck of cards is not necessary though so if it's a particularly windy day, just play with the dice. If you're interested in more detail around the game and how it's scored, please check out our full post on it.
A Standard Deck of Cards
Small Footprint
Durable
Lightweight
Easy Setup
Wind Resistant
Hard to Lose
One of the best games to take camping is a standard deck of playing cards. There are a lot of games you can play, plus they are inexpensive and easy to replace. I'm planning to write a post soon on the best games you can play with a standard deck. When that post is live I will link it here.
Some other things that make board gaming outdoors easier
You may want to pick up a couple of additional items that will help make you campsite gaming more enjoyable. Here are a couple of things we recommend.
A table cloth with clamps
This will give you a surface to play on that's easy to clean up and pack away. It also means you're not playing your games directly on a picnic table which can be grimy. Wind can be a problem when using a tablecloth on a picnic table but we use these clips to hold the cloth down. There are elastic bands for this as well, but we haven't tried the bands.
Card sleeves
If you're playing card games, these will help keep your cards clean and dry. When planning to use the games outside it's best to double-sleeve you cards to add more weight and also keep dirt from getting into the sleeves. The size you need will of course depend on the game, but there is a very wide selection at Mayday Games. They have a comprehensive list that will tell you what size sleeves you need for over 4,000 games.
A small dry erase board with markers
A great reusable way to keep score without generating a lot of waste. Also, it's heavier than a piece of paper so it won't blow away if it's windy. There are lots of great options for this, I'd recommend getting this one.
Final Thoughts
This is not an exhaustive list of the best games to take camping. None of these games were made in 2023, but if I were going camping today these are the games I would pack. There are a lot of great board games that are perfect for camping, we'll keep adding to this list.
Board games can be a great option for passing a sunny afternoon under a shady tree. Or for those times when the weather isn't cooperating and you need to spend some time in your tent or camper. Next time you're packing for your trip, be sure to throw one or two of these games in with your gear. You'll be glad you did!