Do you have a ton of card games and it looks like clutter or worse yet, you have forgotten what you have because they are stacked behind other card games? We had this exact problem, and had to come up with a solution for card game storage. There are so many small games on the market but over time they tend to get lost in our other games. My friend Maggie found a good fix to this problem. It stores all the small games in the same location and best of all it makes portability easy.
Here's What to Get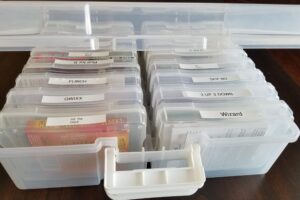 Our Card Game Storage Setup
Each case will hold 16 card or small games. I have labeled each plastic insert so I can quickly see what games are in the container. This setup allows for great organization. Here are some ideas on how to organize your container:
Alphabetical
Number of players
Age group such as children 4 – 8 or Adult
Frequency of play
Time such as 10 minutes, 20 minutes, 30 minutes, etc.
The new card game storage box fits on your game shelf next to all of your other games. This makes small games easily accessible.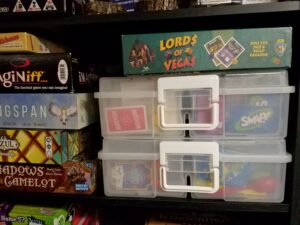 Once you get your container organized there is a little spot on the front where you can tape a typed list of what games are in the container. If you have multiple containers like me you won't have to open each container to see what games are inside.
Case 1
Case 2
Case 3
Advantages to this setup
There are a lot of advantages to this card game storage (or small game storage) solution:
The inserts are plastic versus cardboard boxes so no frustration with the paper box getting warn or destroyed
The inserts clasp shut so no pieces will fall out and get lost
You can remove one plastic insert without having to take the whole box
You can easily take 16 games with you for a game night or vacation with one container
It clears up clutter on your game shelf
The card or small games are no longer hidden behind your larger game boxes
Other Options We've Tried for Card Game Storage
We've had experience with other storage options before landing on this one.
Stacking
We would stack the card games one on top of each other as well as behind and beside. They would often spill all over the place while we were digging for what we were looking for. It was not ideal. In fact we have gotten more small games and I am looking at getting a 4th box.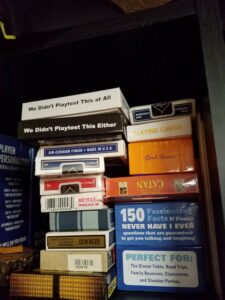 Bins
We fixed our toppling over problem by placing the card or small games in bins. The trouble with this solution was not all card games are the same size, so the smaller games ended up on the bottom and we barley played them. Pieces or cards would fall out of their cardboard boxes and we would have to empty the bin to find the missing pieces or cards.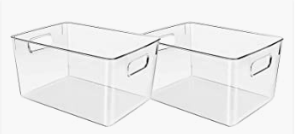 If you don't have a lot of games this is a good storage option but it really does not work well for travel.
Final thoughts
Card games and small games are great because you can collect a lot of them for little cost. The 4 x 6 storage craft keeper is a fantastic way to organize these small games so you can easily grab one and start to play. This card game storage solution has changed how much we play our card games because now we can easily access them and not forget what games we have.
This solution works well for small card games. We have come up with other solutions for larger games like Dominion. If you are looking for a storage solution for Dominion check out this guide.